Misia XM Series Wire Rope Hoist Units
Hoist Sales UK Limited are proud to be the sole UK agent for Misia hoist units and spare parts.
Unlike many of our competitors, Hoist Sales UK carry an extensive stock of Misia hoist units ex our Midlands works. This makes Misia the ideal choice for a replacement hoist unit in a breakdown situation or when a complete Misia crane installation is required within a short timescale.
Misia spare parts and components are also available ex stock at Hoist Sales UK Midlands depot, ensuring that your equipment is operational with the minimum of down time.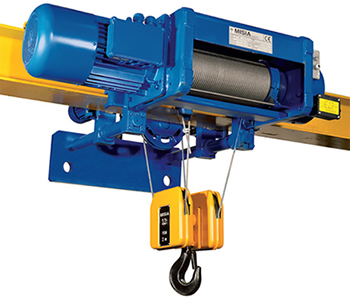 With more than 100'000 units sold and over 30 years experience – Misia has met the high standards expected from a leading wire rope hoist manufacturer. A proven engineered design – dedicated to low maintenance costs, Misia's high level of reliability and performance whilst remaining cost effective, are all complemented by our impressive fem (ISO) ratings.
****All units sold with a 24 month warranty****
Misia's range covers capacities from 800 kg up to 50'000 kg SWL and is supported by the following configurations:
Low headroom monorail hoist
Standard headroom monorail hoist
Crab units (Including special gauges)
Foot mounted fixed position hoist units (supported or suspended)
Articulated trolleys to negotiate radius
Choice of tapered rotor conical motors or cylindrical c/w disk brake
Single or two speeds are available on the hoist and cross travel motions along with the option frequency Inverter control
With or without electrical control panel and pendant.
Misia's versatility and reliability, even in the most aggressive environments, make it the ideal hoist for many applications including steelworks, fabrication shops, foundries, galvanizing plants, paper works, dockyards, ports, glassworks etc.